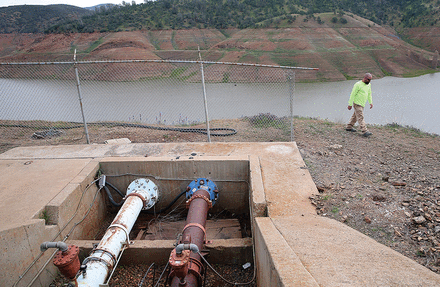 Protecting the nation's drinking water is already a daunting task, and climate change is expected to make it even harder.
"Climate change isn't necessarily causing all the drinking water problems we experience, but it is exacerbating them," said Laura Feinstein, PhD, a senior researcher at the Pacific Institute in Oakland, California. "It's going to take advantage of the vulnerabilities already in the system."
The institute is one of many organizations and agencies studying the impacts of climate change on water and the systems charged with pumping safe drinking water into people's homes. According to the U.N., water is the primary medium through which people will experience the effects of climate change, with warmer temperatures shaping the amount, distribution and quality of available water. In the U.S., for example, communities in the Northeast and Midwest are likely to experience more rain and runoff, which can lead to greater flood risks. In other parts of the country, longer, more severe droughts are expected.
Compounding climate effects on the natural water cycle is an aging drinking water infrastructure and a patchwork of water systems of varying capacity and preparedness. In California, for instance, the vast majority of water systems are medium to small ones, Feinstein said, with about 400 systems serving most of the state's population. The problem is that systems that serve only a few thousand residents typically lack the resources to prepare for and adapt to climate change.
During California's hottest drought on record, which lasted from 2012 to 2016, about 150 small- and medium-sized utilities reported impending shortages and many had to rely on water being trucked in from elsewhere, she said, while residents had to restrict their water use. The strain was especially acute in already disadvantaged communities, some of which were forced to pay drought surcharges, exacerbating affordability issues.
"The communities most vulnerable are relatively small, rural and economically disadvantaged," Feinstein told The Nation's Health. "There's a compounding effect when you have a small number of paying customers — it limits the system's capacity to do things like build in access to emergency water supplies and maintain the water treatment infrastructure."
A solution, she said, is to consolidate smaller water systems into larger ones — an idea the U.S. Environmental Protection Agency supports as well. Last year, California lawmakers created the Safe and Affordable Drinking Water Fund to help water systems in the state maintain an adequate and safe supply of water, and to support consolidation efforts.
Among the many groups that support California's new drinking water fund is the Water Equity and Climate Resilience Caucus, which launched in 2018 to build a national network focused on frontline communities of color and low-income communities.
According to the caucus, millions of Americans are already being served by water systems with health-based violations, while federal funding for water and wastewater utilities has declined nearly fourfold between 1980 and 2014. Climate change will only exacerbate such vulnerabilities, with low-income and minority communities hit disproportionately hard, said Ronda Chapman, a senior associate at Policy-Link, which co-convenes the caucus.
To confront the problem, the caucus is organizing face-to-face meetings between its members and members of Congress in the hopes of elevating equity issues within climate planning and mitigation efforts.
"This is a question of access," Chapman told The Nation's Health. "When we have communities already living through these realities, they don't have the time or relationships to make these demands. But the caucus can help make sure they get heard."
Both Chapman and Feinstein said there is room for change; however, the time to act is now.
"This work needed to happen decades ago, so that's the level of urgency we're at now," Chapman said. "We need to get moving."
To learn more, visit www.pacinst.org or www.policylink.org.
Copyright The Nation's Health, American Public Health Association