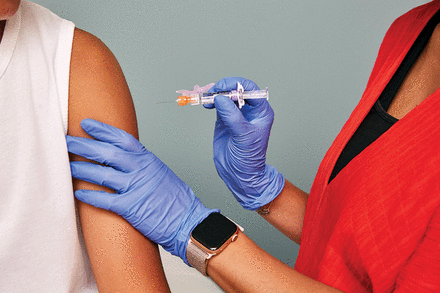 Pharmacists across the country will be able to administer COVID-19 vaccinations when they become available under new guidelines released by the U.S. Department of Health and Human Services Sept. 9.
Citing the U.S. Public Readiness and Emergency Preparedness Act, HHS authorized pharmacists or supervised pharmacy interns to provide COVID-19 vaccinations to people ages 3 or older.
To qualify for use by pharmacists, COVID-19 vaccines must be authorized by the U.S. Food and Drug Administration. Licensed pharmacists must also complete a training program and adhere to other protocols set by the federal government, the guidance said.
"Allowing pharmacists to order and administer COVID-19 vaccines will greatly expand convenient access for the American people," said Brett Giroir, MD, U.S. assistant secretary for health, in a news release.
The immunization rollout is expected to be among the largest in U.S. history. Pharmacies will join local and state health departments, medical practices and other providers in vaccinating millions of U.S. residents. A fully tested, FDA-approved vaccine for COVID-19 is not expected to be available until 2021 in the U.S.
The new HHS guidance is not the first change for pharmacists this year. In August, HHS released an amendment allowing state-licensed pharmacists to provide vaccinations that are part of the U.S. childhood immunization schedule, including flu shots.
Some clinician groups spoke out against that move, however. The American Medical Association called for the amendment to be rescinded, saying that it will "cause children to forgo holistic well-child exams and comprehensive preventive care."
U.S. pharmacists have long provided immunizations, so allowing them to provide COVID-19 vaccinations makes sense, according to Hoai-An Truong, PharmD, MPH, FNAP, director of the School of Pharmacy and Health Professions at the University of Maryland Eastern Shore. There are over 88,000 pharmacies in the U.S.
Vaccine hesitancy remains a concern, however. In a September Pew Research Center poll, only 51% of Americans said they would receive a free, FDA-approved COVID-19 vaccine if it were available then. That rate was higher earlier this summer, but fell in the wake of concerns that the U.S. president and his administration were working to speed up vaccine development for political gain.
Truong, chair of APHA's Pharmacy Section, said pharmacists are skilled in addressing vaccine hesitancy and are also well versed in health promotion, disease prevention and immunizations.
"Pharmacists serve as advocates and educators to provide accurate and reliable education and information to help patients overcome hesitancy to improve the public's health," Truong told The Nation's Health.
For more information on the guidance, visit www.hhs.gov.
Copyright The Nation's Health, American Public Health Association