Many US health workers uninsured
Nearly 600,000 U.S. health workers, many of them at high risk for coronavirus, are uninsured, according to new research.
Released in September by ValuePenguin, which studies consumer data, and based on data from 2018 American Community Survey, the analysis found that personal care aides, nursing assistants and registered nurses make up the highest proportion of uninsured health care workers. Millennial health workers were most likely to be uninsured, with 41% having no health coverage.
Texas leads the nation in uninsured health care workers, with more than 18% uninsured, followed by Oklahoma and Idaho. On average, the analysis found that a state in the U.S. South has an uninsured health care worker rate that is 4% higher than that of a Northern state. Iowa and Massachusetts had the greatest number of covered health care workers, with over 98% having some type of health insurance.
Personal care aides, who help people at home with their daily activities, made up more than a third of health care workers without health coverage. According to federal labor statistics, such aides typically make about $26,000 a year.
For more information, visit bit.ly/workercoverage.
Americans support US public health
Awareness and recognition of the importance of public health is up since the 2018 election, a new poll finds.
In September, the de Beaumont Foundation released national poll results finding that 73% of voters recognize that public health departments play an important role in keeping people healthy, which is up from 56% in 2018. When survey participants heard a list of services that health departments typically provide, 6 in 10 said they would be willing to pay more in state and local taxes to fund local health agencies.
The biggest increases in respondents saying public health is important or very important were among white men, men with a college degree, Republican men, independent women and voters living in the Midwest. Sixty percent of voters said they were somewhat or very familiar with their local health department, which represented a net shift of 22 points from 2018. The results are based on a poll of 800 registered voters conducted July 7-13.
For more information, visit www.debeaumont.org.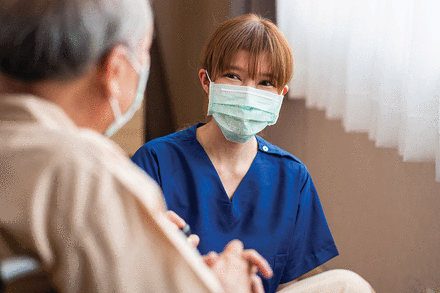 Many workers face serious complications
Many U.S. essential workers have underlying health conditions that put them at higher risk of COVID-19 complications, with two groups of health workers — home health aides and nursing home workers — at particular risk, finds new research from the Centers for Disease Control and Prevention.
In a study published Sept. 11 in CDC's Morbidity and Mortality Weekly Report, researchers examined prevalence of underlying health conditions among workers in six essential occupations and seven essential industries using data from the 2017 and 2018 Behavioral Risk Factor Surveillance System. Obesity and hypertension were the most common conditions in every essential worker group, while home health aides had the highest unadjusted prevalence estimate for every chronic condition except severe obesity.
Among nursing home workers, adjusted prevalence ratios for coronary heart disease, chronic obstructive pulmonary disorder, diabetes, hypertension, obesity and severe obesity were significantly elevated. Non-health care industries with high prevalence rates of more than one underlying condition included transit and trucking workers.
Hospital staff differ in COVID-19 risk
Despite their close contact with seriously ill patients, the risk of COVID-19 infection among hospital staff during the height of the pandemic was lowest among intensive care clinicians, a new study finds.
Published in September in Thorax, the study involved testing asymptomatic staff at a large hospital system in the United Kingdom for current and past infection with the coronavirus. Nearly 2.5% of staff with no symptoms tested positive for coronavirus, with 38% developing symptoms.
Hospital cleaners had the highest seroprevelance — or antibody positivity — followed by clinicians working in acute medicine or general internal medicine. The lowest seroprevalence was among staff working in intensive care, emergency medicine and general surgery, which researchers said could be related to their high-level personal protective equipment.
Black, Asian and other minority workers were nearly twice as likely to have been infected with coronavirus than their white peers, the study said.
Copyright The Nation's Health, American Public Health Association
View Preview