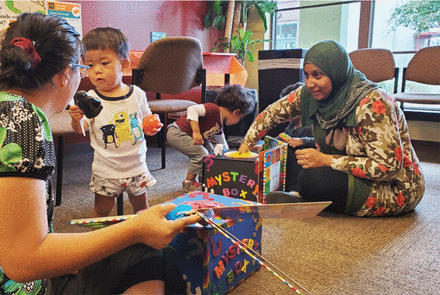 The experiences kids have in their early years can impact the rest of their lives. Houston leaders are helping disadvantaged kids get an extra boost toward health and success through a citywide campaign.
The Houston program is based on one started in Boston several years ago to teach parents how to nurture children in those formative years through five practices called "the basics." Today, the program is in over 30 cities, arriving in Houston in 2018. Overseen by the Houston Health Department, Basics Houston opened three brick-and-mortar sites, and in February launched an interactive website.
"We view Basics Houston as a public health campaign," Kristi Rangel, chief of public health education at the Houston Health Department, told The Nation's Health. "It is a way to build community around the science of early brain development and build community around the five basics."
Children's experiences in their first three years of life impact their brain development, influencing social behavior, emotional stability and cognitive abilities into adulthood.
Infants and toddlers raised in loving homes and stimulated through play and thoughtful engagement are more likely to be well adjusted, perform better in school and form positive relationships throughout life, research from Harvard University and others show. The Basics program relies on science to create its instructions for parent-child interaction.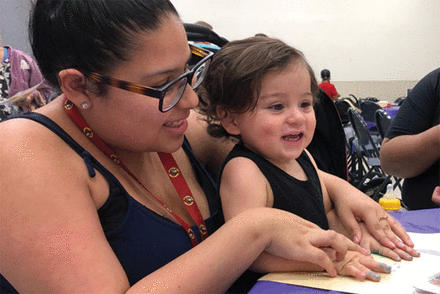 The Basics template was created through a partnership between the Black Philanthropy Fund and the Achievement Gap Initiative at Harvard. Basics Boston opened in 2016, and within months, the program expanded to Chattanooga, Tennessee; Yonkers, New York; and Pickens County, Georgia. In 2017, the Boston team launched a nonprofit organization, The Basics Inc., to consolidate oversight for the local campaign and provide support for the growing network, called the Basics Learning Network.
The five basics instructions create an environment that helps wire the brain for success. Parents follow simple instructions when interacting with their children: maximize love, manage stress; talk, sing and point; count, group and compare; explore through movement and play; and read and discuss stories.
Though the program is open to all, it prioritizes families with the greatest needs. In early childhood, social disadvantages can inhibit cognitive growth that can remain throughout life, Rangel said, affecting school performance, job prospects, and health and well-being.
Houston, which has a population of 2.3 million, is 45% Hispanic and 33% Black, the 2018 U.S. Census shows. As in other cities, minority populations in Houston are impacted by social determinants that influence education, health, income and other factors.
Parenting skills are also affected, according to Rangel.
"Vulnerable communities oftentimes are not given the same support to attain, understand and learn about proper parenting," Rangel said. "We say, 'Read to your kids,' but they live in a book desert. We say, 'Manage your stress,' but when they are in postpartum (depression), no one recognizes it."
Before the pandemic, families visited three Basics Houston centers, where parents attended free workshops. But the meetings stopped last year due to COVID-19 safety protocols.
Basics Houston's February website launch marked the program's return. The website empowers parents to learn the five basics free online. Parents can download parenting guides, watch videos on parent-child interaction and receive expert advice on social media forums. Spanish-language versions are available.
In spring, support will increase, as Basics Houston launches virtual parenting workshops.
"Ideally, the goal is for parents and families to get not just the message of basics, but all the support they need." Rangel said.
To learn more about Basics Houston, visit www.thebasicshouston.org.
Copyright The Nation's Health, American Public Health Association